from the archive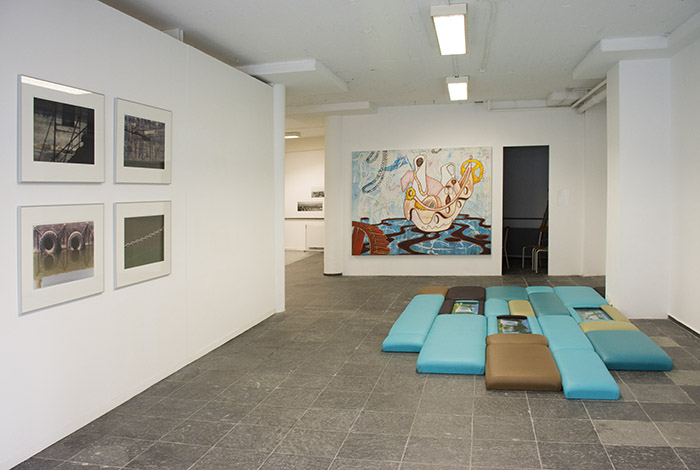 " Art Streams " - 04-09-2015 / 01-11-2015
ramfoundation opent het nieuwe culturele seizoen met de visuele verhalen van hedendaagse kunstenaars over water, boten, schippers en de haven. Te zien zijn installaties, foto's, beelden, tekeningen en video's, maar ook enkele zwart/wit foto's van de Rotterdamse haven in de jaren '50 uit het archief van het Nederlands Fotomuseum.
ramfoundation opens the new cultural season with a visual narrative about water, seafaring, skippers and the harbour. Installations, photographs, sculptures, drawings and videos of contemporary artists will be on show together with several black and white 50s photographs of the Port of Rotterdam from the archive of the Netherlands Fotomuseum.
Lees verder/Read more
rf-blog - art stories
10-03-2017 - Karlijne Lafort
Pushing Boundaries, Expanding Frontiers - interview met Dirk van Lieshout
Dit artikel is onderdeel van een interviewreeks met de kunstenaars die meededen aan de tentoonstelling Pushing Boundaries, Expanding Frontiers. In deze tentoonstelling werd onderzoek gedaan naa...
Lees verder
TRY ART!
ramfoundation heeft een nieuwe manier van kunstverzamelen geïntroduceerd in Nederland onder de noemer: TRY ART !
Het betreft de oprichting van kunstverzamelcollectieven volgens het format van de Engelse organisatie 'The Collective' met ondersteuning van het Mondriaan Fonds.

ramfoundation has introduced a new way of art collecting in The Netherlands, called TRY ART!
The formation of art collecting groups is based on the format of the English organisation " The Collective" and supported by Mondriaan Fund.
Ga naar/ go to TRY ART!